TCA was established in 2002 and has built a 20 year reputation on highly custom and quick turn cable assemblies. With an extreme focus on tooling innovation and customer oriented processes, our aim is to be able to quickly fulfill any requirement in the world of custom harnesses, box builds, PCB's, molded solutions and prototypes.
Extensively tooled in crimp, solder, mold, and test fields, TCA is prepared to manufacturer a cable assembly utilizing nearly manufacturers products that exist.
Technical Cable Applications has been in business since 2002, and is constantly pushing the boundaries on cable assembly. One of the key differences between our assemblies and our competitors is our drive for innovation. We strive to develop solutions for strategies in cable assembly, high quality assurance, cable tooling enhancement, and overall wire harness process improvement.
Our dedicated and high quality staff utilizes top of the line connector equipment to test not just the correct wiring of our harness assemblies, but potential breaks, components, and the pull strength of individual contacts. Not only do we train our staff to IPC standards, but we also host IPC classes here at our facility for increased education on cable assembly and PCBA. These are the best practices for our own technicians as well as our customers who are looking to further their knowledge on the correct manufacturing methods and assemblies of our products.
Custom Cable Assembly
Our investment to cable tooling is second to none in our category, and our capabilities are vast. As we serve many different industries, we maintain inventory on applicators from Molex, JST, TE, Deutsch, Hirsose, and many others. Our library of crimp tools is maintained and calibrated regularly by our engineering staff, ensuring we always have the right tool for any assemblies for wire cables. In addition, we offer full cable production runs. This custom cable service allows for wire assemblies that are flexible according to your needs. Our tooling assessment for wires and cables helps bring your coaxial cable tooling and harnesses to the next level.
Over the past few years, we have doubled our capacity on overmold capabilities, expanded our collection of pneumatic presses, and grown our engineering team by 100%. We will always continue to grow and expand on our existing quality power cable assembly process and documentation system.
Assemblies for cables and connectors require proper knowledge of a variety of indicators. This includes IPC best practices, recognition of good and bad crimps, solder points, strips, and more. Having the right tools in place creates excellent consistency in great quality products, and constantly improves our processes with an emphasis on efficiency breeds speed and low cost manufacturing.
Cable Harness Assembly
Our assembler technicians on the floor utilize automated visual work instruction electronics programs created in partnership with Scout Systems. This allows us to not only monitor the progress and time trials of various cable assemblies and harnesses, but also ensures that each technician is familiar with the product at hand and builds to the exact specifications time and time again.
Our process for cable assemblies for connectors starts long before the assemblies reach production. Our prototype and first article engineers carefully review your product and analyze the best cable tooling and assemblies. We ensure reliable manufacturability and create a cable assembly system that will allow us to flow your product from order to your dock as efficiently as possible.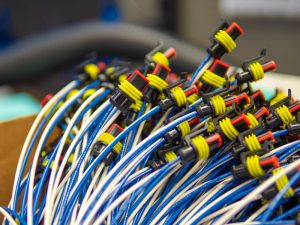 Our tooling assessment for wires and cables helps bring your cable tooling to the next level.