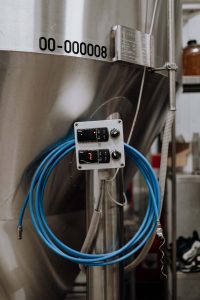 Technical Cable Applications, based in Washington state is a wire harness manufacturing and assembly company with a reputation for high quality. We are equipped to build all kinds of wire and cable systems from simple harnesses, to highly complex systems with hundreds or even thousands of connection spots. We use automation technology to speed up the process of development and manufacturing so we can accomplish your project faster, and more efficiently.
To go over the steps of how we design and manufacture harnesses and cables, it's best to start with the wire. Every wire is first built using conducive materials, usually metals like copper or aluminum. If you take more than one of these wires and tie, attach or combine them you now have a cable. Wires usually have protection built around the conducive materials, but cables often require additional protection and more complex solutions for arrangement. This is the point where our years of experience and expertise in harnesses comes in where our harness expertise comes in.
Automated Wire Assembly Systems
The simplest types of wire harnesses have exterior coverings that protect the wires on the inside. Often called a "sheath", this covering is typically made using thermoplastic materials to avoid overheating and block the wires from being damaged from the outside. If you open up the covering, you will typically see that the cables or wires inside also have their own sub coverings for additional protection. The entire package is considered to the wire harness.
When you're designing custom harnesses and manufacturing thousands of them, having a large team of extremely skilled designers and engineers is necessary to ensure high quality and avoid additional costs from mistakes or redesigns. We use our advanced technology and excellent staff to design the project perfectly and manufacture it right the first time. Even custom projects are still often under tight deadlines and even tighter budges, so having fast and efficient team to deliver exactly what is needed and more will be worth everything for getting your entire project finished.
Assembly and Automation Technology
Depending on the scope of your project and what environmental hazards it will need to be protected from, harnesses may be the best option to save on cost, but we can also help you determine if you need more durable options like cable assemblies. Our assembly and automation technology will help with delivering your project on time and with excellent quality. We are proud of our reputation as one of the top automated wire harness assembly manufacturers in the country!