Local to Western Washington and founded here in 2002, Technical Cable Applications makes daily deliveries up and down the Interstate 5 corridor to customers all around not only the Seattle and Auburn, WA region but also the entire West Coast, and the rest of the United States. We are proud to be a fully American based cable manufacturer. We provide custom vendor managed inventory services, just in time stocking agreements and consigned inventory programs allowing our customers to improve their wire inventory turns drastically without sacrificing availability. Technical Cable Applications can build very simple harnesses or assemble extremely complex harness systems with hundreds of harnesses. Our custom wire harnesses are built according to your exacting specifications, and we in inspect every harness we produce in accordance with the IPC/WHMA-A-620 Revision D standards and as specified by our customer's wiring harnesses need. We are also UL certified for cable assembly in the United States and Canada and ISO 9001:2015 certified as well, which is an internationally recognized standard of excellence. You can ask any of our current long-time customers and they will tell you to choose Technical Cable Applications as well for custom wire harness and cable assembly needs!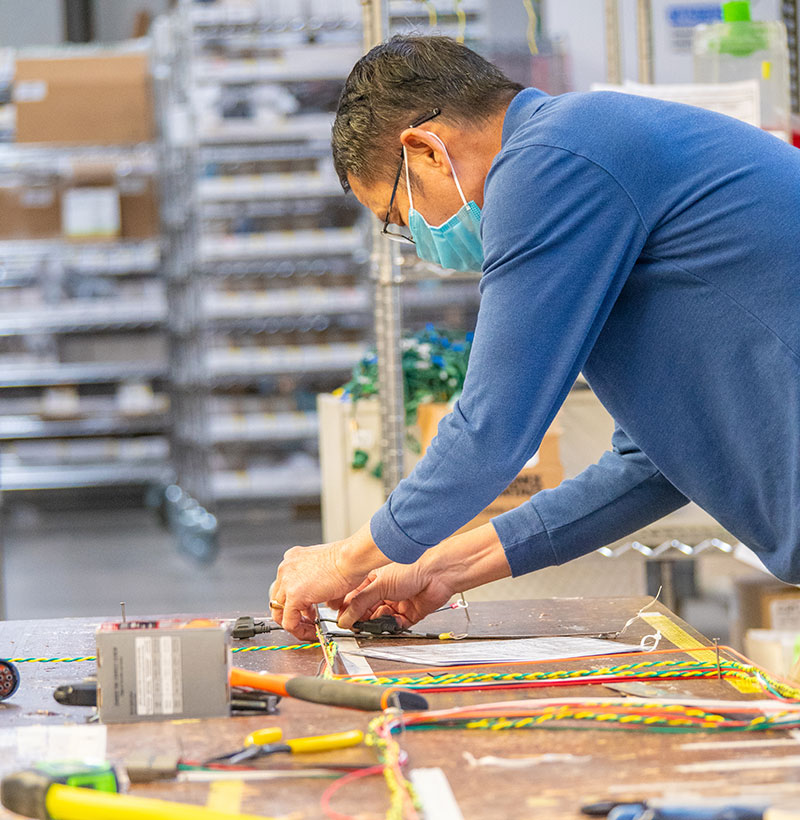 Cable tooling requirements, order of harness and test procedures are carefully documented during the first article stage to assure that every single wire assembly is built the same way. Part of Technical Cable Application's advanced wire harness manufacturing systems and processes includes utilizing computerized instructions for harnesses on every workstation to guide our wiring assemblers through the wire build process, developed by our partners at Scout Systems. Additionally, this system allows us to track production in real time as product is being built and not only ensure that harnesses are being manufactured correctly each time, but also make improvements for new harness solutions so that we can be more efficient next time. We have gotten incredible value from the efficiency improvements these automated work instruction systems have allowed us to identify and implement for future manufacturing.
Custom Engine Wiring Harness
Every employee at Technical Cable Applications goes through intensive training for every procedure they perform and we use automation and cutting edge equipment to minimize errors as much as possible. During production wiring is cut and prepped on extremely reliable high-speed custom wire processing equipment assuring that length tolerances are consistent and held to the customers specification. All crimped terminations are performed on the tooling meant for that specific contact, and we use very powerful crimping equipment like our Schleuniger 36SP Crimp Center that helps us automate much of the process and increase efficiency and quality control simultaneously. Wherever possible other operations like stripping and de-jacketing are performed on automated equipment as well to speed up the process, optimize production and assure that the assemblies will be cost effective during installation and reliable for real world use in whatever weather or temperature patterns your industry will expose them to.
We manufacture off-the-shelf wire harnesses every day for customers with straightforward needs, but also offer custom wiring harness solutions as we can work with your custom specifications and drawings and help bring them to production and manufacturing phases. When received, all custom drawings and wire specifications are carefully checked to make sure that all the elements needed to manufacture are included and all the materials are clearly defined. If details are missing or need clarification, our highly trained technical staff will work with the customer's engineering department to obtain clarification before the custom build begins. Additionally, our Technical Cable Application sales staff offers engineering support to speed up the connectors development process, and help assure the components are the best fit for an application. If we have suggestions for ways to improve the components being used, or have any concerns about the feasibility of one of the requested parts to be used, we will again clarify with you to ensure that we are meeting your needs and providing a high quality product you can trust. The manufacturing team at Technical Cable Applications will determine that the final harness is as cost effective and painless as possible to use, and that we can manufacture it in bulk with extreme efficiency without sacrificing product quality. This helps us keep lead times down and get your high quality wire harnesses shipped to you as soon as possible.
Custom Wiring
Every custom wire we manufacture is 100% electrically tested to assure that the harness wiring is done correctly, and the terminations were applied properly. Additionally, the company has equipment to do internal HiPot testing and will test other components that may be incorporated into the harnesses, including fans, diodes, LED's, resistors and capacitors to ensure that everything will function as expected and be reliable in the conditions you will be utilizing it under. As mentioned before we hold to IPC/WHMA-A-620 Revision D standards for our quality control and inspection, and part of being UL certified is being able to track every harness, part and connector back to its origin. This has helped us avoid waste and ensure that in the event of a failure, we can prevent it from happening again.
Technical Cable Applications builds the maximum value into every harness product manufactured at our facility and shipped out as a TCA item. Our wire harness manufacturing facility is known for providing the best possible service, cables, delivery on time, and very competitive pricing. Here are a few more reasons to choose Technical Cable Applications as your cable manufacturer.
We are IPC/WHMA-A-620 trained wire manufacturing technicians.
We are certified UL/CSA for cable assembly in the United States and Canada.
We are ISO 9001:2015 certified for cable manufacturing.
We have our main facility in Washington state which has been expanded tenfold since our founding in 2002, and we recently added a sales department in Phoenix, Arizona.
We partner with two excellent facilities in Mexico that have helped us improve our lead times by outsourcing items that we previously got from overseas, which also helps avoid geopolitical risk.
Call us today or send us your cable drawing via our online contact form to get started!