Needing a M12 4 pin connector manufacturing expert to help out with your next industrial or technical project? Technical Cable Applications in Washington state is your best option for all cable manufacturing needs. Our high quality cable manufacturing facility has been shipping and building cables, harnesses and much more all around the United States for decades, and we're prepared to provide reliable M12 4 pin connectors for your company, project or construction. Our engineers and technicians can produce excellent M12 cables, whether you have an existing cable that needs to be manufactured faster and more precisely or need a custom solution that uses M12 connectors. Our custom cable engineers can prototype and test M12 cables for your needs, no matter the industry you need it for. 
We have highly experienced teams for every step of the cable process including  prototyping, testing, manufacturing and shipping, so we are the M12 4 pin connector experts for every part of the process no matter your needs. Not only can we build custom M12 cables to meet your exact specifications, we use only the best and most trustworthy materials and manufacturing tools to make every cable and pin is reliable and safe. We invest into new tools and improving our facility each year and have only improved as being the best M12 4 pin connector manufacturer you can choose for your needs.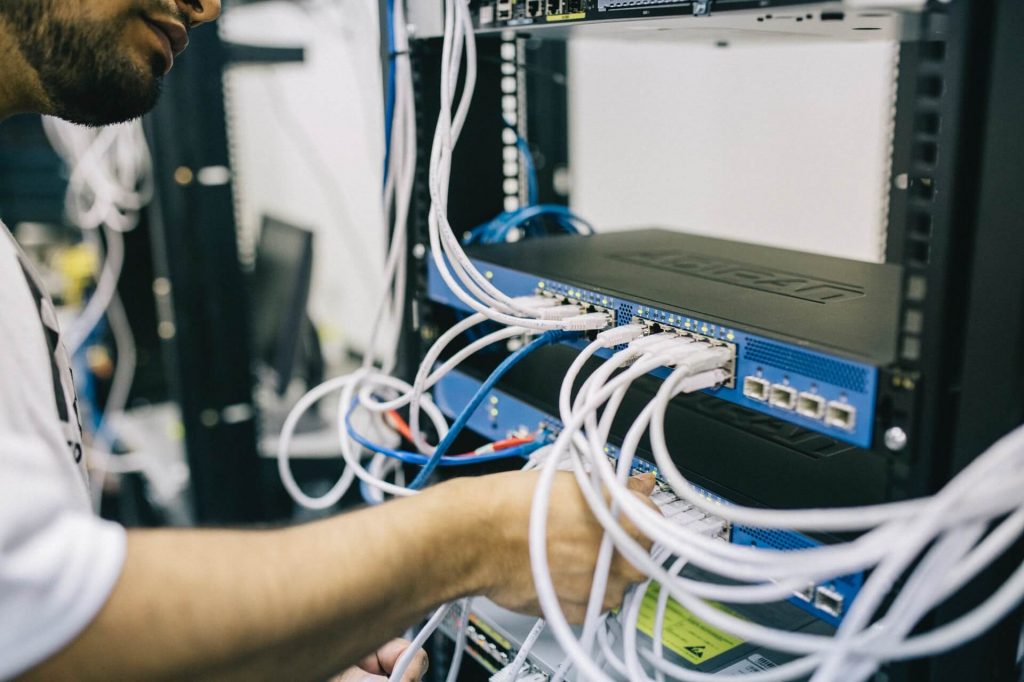 M12 4 Pin
Our cable manufacturing facility is in Auburn, Washington in King County but we can work with anyone in the US and make sure your product can be safely shipped to your location. This area is the perfect place to be a manufacturer in because of the proximity to so many industries and companies that thrive in Seattle, but it also allows us to ship to any location on the West Coast very easily and elsewhere in the States as well. Every new project is an opportunity for us to improve our craft even further and help create amazing buildings, facilities and tools that advance technology in the States further, so we'd love to discuss your project and see how we can help make it happen. We have expanded our facility's manufacturing size by 50% just in 2022 and purchased additional cable molding and crimping tools in order to increase our efficiency, so we can serve you with more speed and efficiency even if you're on the other side of the country.
We take pride in being the best and most reliable suppliers for M12 4 pin connectors and all other M12 cable and harness products. We can also provide generators and power suppliers that will be just right for the M12 4 pin connector cables, both female and male connections. All of our manufacturing is done right here in the United States, and whole team works in the same facility making it easy for us to prototype and test new cable blueprints in-house and consolidate the process. While we're proud to be a United States based manufacturer, we made the effort to pass the ISO's 9001:2015 certification as a cable manufacturer in 2021 to confirm that our manufacturing processes and products are good enough not just for America, but other countries around the world as well. No matter the industry your cable needs are stemming from, or the location of your business, Technical Cable Applications has you covered with excellent cable manufacturing solutions for your M12 4 pin connector needs. 
M12 4 Pin Cable
We also have a unique advantage of being equipped to produce and manufacture Ethernet cables for your project as well, to help cover that need if required. One of our unique advantages is the ability to manufacture M12 Ethernet wires and cables (often known as D Coded Connectors) alongside manufacturing standard connectors and all our other products. If you're in need of high speed data Ethernet cables that are highly durable and reliable, or even completely custom to fit your unique product or project need, we can manufacture them with extreme accuracy and quality. There's no need to make your cables in-house or force your products to work with off the shelf cables that aren't as high quality or powerful when Technical Cable can handle making products exactly the way you need them. Especially in industries where cable failures can be catastrophic like the aerospace, cybersecurity, marine or medical fields, there's no room to cheap out on poor cables that won't hold up to your business's needs. We would love to see the cable you need manufactured or the requirements you have for a brand new cable, and speak with you to discuss partnering with us for your cable needs.
Our team of engineers and testers can prototype your custom M12 4 pin connectors to make sure they can handle your project-specific needs. If you need your cable to fit into a very tight space, or be weatherproofed for intense outdoor heat conditions, or any other specific requirements you have, our team can work with you and test a cable that's perfect for your need. Once the cable is finalized, our manufacturing team will build the amount you need with extreme high quality standards and ship them out to you safely. We partner with shipping companies that do excellent work and can get you your products on time and ensure that the cables we work so hard on are transported properly. We also do our best to keep a solid inventory of M12 and other connectors so that we can quickly prototype custom cables and get started on orders quickly.
By using Technical Cable Applications, you're finding much more than just a builder for your M12 4 pin connectors. Our M12 manufacturing company is renowned in the industry of cables for building the best products on the market. Let's get started together! Contact us today online or via our sales phone line.