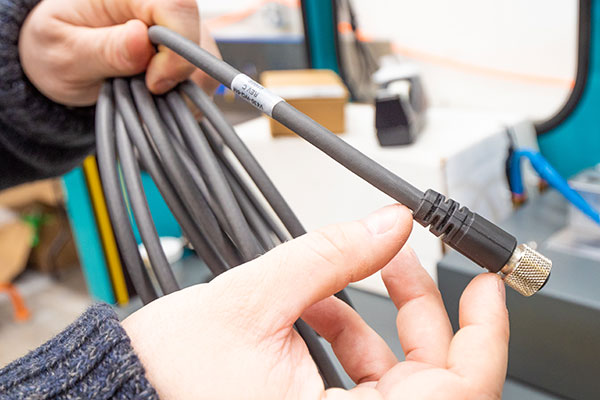 Industrial Ethernet cables are the industry standard for rugged data connections. These include M12 and M8 standard Ethernet connectors. They are used in a wide variety of industries, including robotics, warehouse automation, machine vision systems, aerospace, automotive, agriculture, manufacturing, marine, and utilities.
The miniature circular m12 connector creates a firm environmental seal with its mating receptacle that will withstand more extreme strain and harsher environments than counterparts offering the same continuity. Many of our customers in these industries have replaced standard RJ45 type connections with our molded M12 cables, drastically increasing ruggedness and reliability.
M12 to RJ45 Cable
Industrial Ethernet powers automation in all kinds of discrete devices in a wide swath of industries. We work in close partnership with manufacturers and specialists in both M12 cable and high flex wire and cable. We now have cable assemblies capable of extremely high flex cycle counts, creating a robust solution for automation and robotics scenarios where mobility is required and constant.
M12 Cables can be built using assembled back-shells and field wire-able connectors. However, TCA has invested in the highly specialized mold dies to over-mold M12 cable connectors in our factory in Auburn, WA, USA. We remain one of the very few companies in the country to mold M12 cables domestically. This allows us to make large and small production runs of custom cable assemblies utilizing our customers required pinouts, key configuration, connector orientation, and design specifications.
Ethernet M12 Cable
We mold male and female M12 cables in straight or right-angle orientations. Different connector keying options and locations are available depending on the customer specific requirements. Our M12 cables are molded utilizing Henkel TECHNOMELT OM646, a polyamide Shore A92 rated thermoplastic for low pressure rapid injection molding. We can produce cable parts, both male and female, that are shielded throughout the length of the assembly from electromagnetic interference (EMI), and capable of 500MHZ speeds.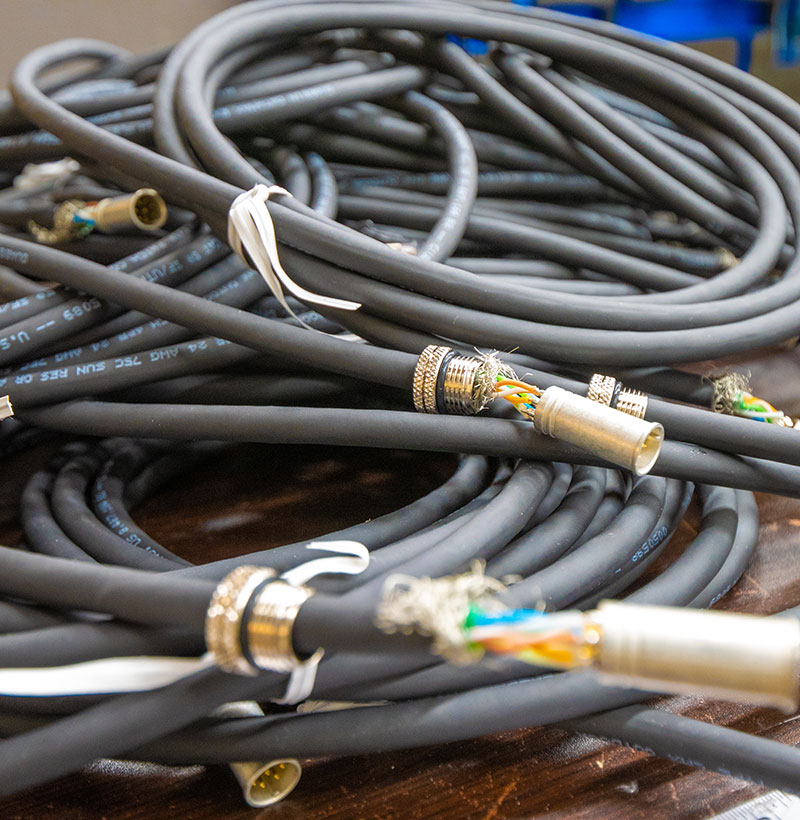 Locally Manufactured Parts
M12 Manufacturing
Since we manufacture these male and female parts locally, we can modify them to meet very specific customer requirements. Creating a custom harness that includes M12 or M8 connectors, standard RJ45, and other industry or customer specific connectors is completely possible. The advantage is the ability to integrate custom manufacturing of molded industrial Ethernet with the rest of our custom cable manufacturing capabilities. This allows us to make highly specialized, completely custom coded designs for our customers regardless of their industry or specialization.
We are a manufacturing partner with a focus on cable assemblies, including a high proficiency in the industrial Ethernet and M12 connector space. This makes Technical Cable Applications a tier 1 networking partner for US OEMs that require connections coded for their product in an increasingly automated world.
We are the M12 Cable Manufacturer for your next project. Contract Cable Manufacturing for M12 Cables. Call us today!