Our facility in Auburn, WA is extremely well equipped for molding, crimping and manufacturing cables in bulk production runs, we work to produce your cables with more efficiency and quality control than many competitors. We are ISO certified with the 9001:2015 designation, as being a maker of cables, wire harnesses and much more that meet their high, internationally recognized standards for quality. We are also UL certified for United States and Canada for cable assembly. We also invest more into our cable production each year, as in 2022 we invested in an additional molding center that has increased our capacity by 33%. With that in addition to previous upgrades, we now have 300% more capacity for molding than we did just two years ago in 2020. Our commitment to quality and improving our processes runs through everything we do from hiring to facility management.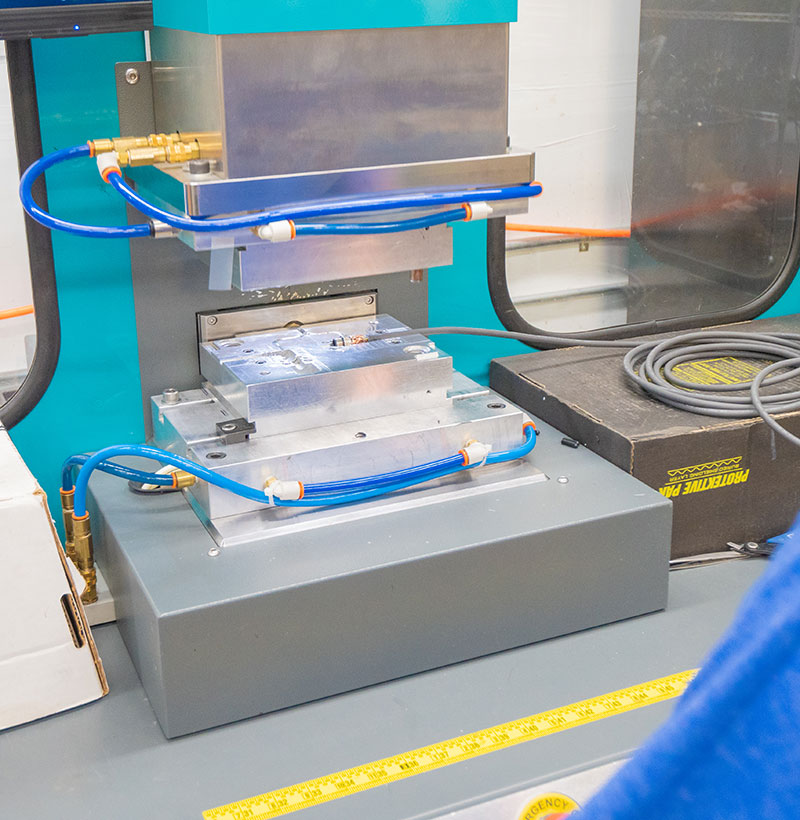 Technical Cable Applications utilizes MoldMan thermoplastic machines to over mold assemblies for cables by the thousands. Custom tools, called "dies", are made either by our customers or by our cable tool-makers for customer needs and specifications. These cable tools are made from aluminum blocks with steel inserts that are removable or adjustable. These blocks create varied configurations of each specific cable mold.  In some cases, our cable tools have enough adjustments to create up to 12 different variations of assemblies for cables simply by removing the insert, flipping it to a different orientation, or reinstalling it. This practice has been used when a customer requires the same cable mold for a straight position connector, right angled connector to one side or the other, or a connector facing up or down. Some of the most common connectors we over mold, such as M12 connectors, can have varied key configurations as well and the customer can have the cable molding configuration done in a way that allows this keying to match up with their application perfectly. 
Cable Overmolding
The thermoplastic molding material we use runs up to 475 degrees Fahrenheit, and is maintained in environmentally sealed containers to maintain cable product integrity. We utilize removable "hoppers" or quick exchange melt reservoirs which allow us to purge the moulding material quickly for different applications. An example of this would be a d-sub connector, which may require a very firm durometer molding material. On the other hand, a grommet requires a more flexible moulding duro in its application.
Our pneumatic molding machines have 2 ton clamping force, a timed process for injection (controllable temperature and pressure/psi settings), as well as cooling and ejector pins. Most common applications are tailored connector overmolds and backshells, PCBA encapsulation for environmental protection, and grommets. We have created specialized USB applications, LED encapsulation, and "Y" breakouts which serve to create an extremely professional and rugged alternative to scenarios which otherwise may use a heatshrink style solution. 
When a customer identifies that a custom molded raceway solution may be right for them, we address three main steps:
 Understanding the overall application. If the customer does not have a completed drawing available, we can offer advice based on our industry experience to them based on the connector or backshell we may be molding.
Manufacturability and steps required. We assess whether this cable tool would be multicavity (able to do cable molding for more than one assembly for cables at a time) or single cavity. We assess a need for a pre-mold epoxy that would protect shielding, exposed conductors, or flow through, and we look at the time required for each wire molding assembly based on size, complexity, and mass.
We assess which material may be best. Most commonly we use the Macromelt OM 646. This is a polyamide with a hardness rating of 92A. The service temperature is -40 to 125C, and has become our most popular material. 
Molding Wire
Customers have utilized our molded raceway solutions to improve the professional appearance of their cable product, to protect it from UV Rays, chemicals, water, rough use cable applications, and to increase the life cycle of their finished cable product. Since we do wire molding here in Seattle and are located conveniently next to Interstate 5 with excellent shipping partners to help, the typical lead times range from a few days to a few weeks and new custom cable tools only require a couple weeks to manufacture most of the time. While this has become more challenging due to the aftereffects of the COVID-19 pandemic at the time of writing, we are still doing everything we can to continue producing cables with excellent efficiency and keeping a strong inventory so we can begin new productions and prototypes quickly. We hold to the IPC/WHMA-A-620 Revision D standard for our quality assurance and production.