Technical Cable Applications was established in 2002 and has built a 20 year reputation as a manufacturer of highly custom and quick turn custom cable assemblies. With an extreme focus on tooling innovation and customer oriented processes, our aim is to be able to quickly fulfill any custom cable requirement in the world of custom harnesses, box builds, PCB's, molded solutions and wire prototypes.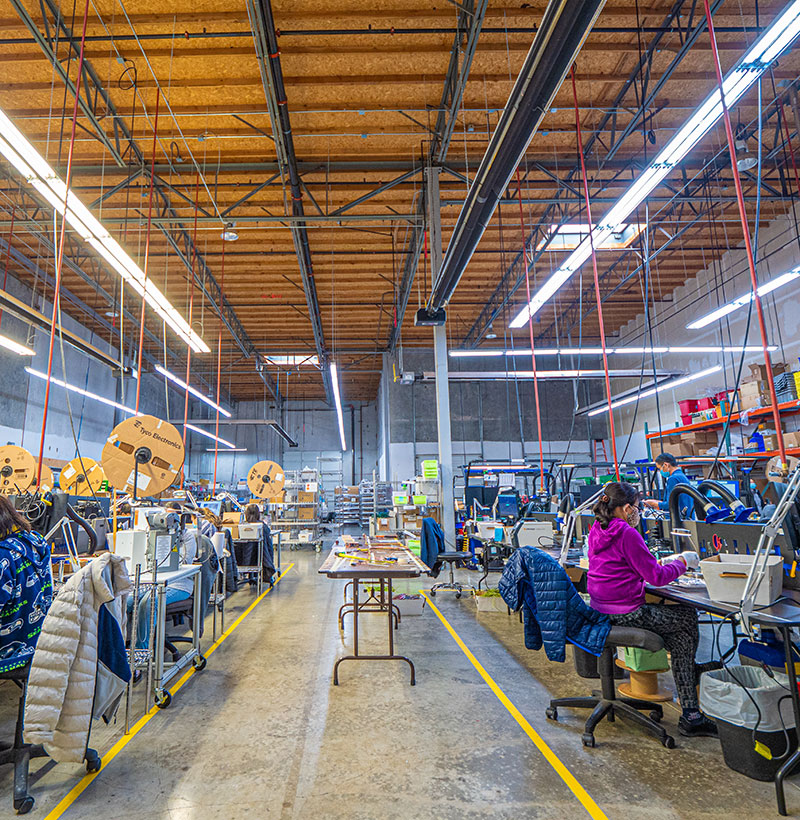 Technical Cable Applications is equipped to provide all sorts of harnesses and assemblies for your manufacturing, industrial and business needs. Here are some of the many harness and assembly services we provide for United States manufacturing businesses.
The cable assembly manufacturer process is an eclectic mix of both electrical and mechanical manufacturing. OEMs need cable assemblies and wiring cable harnesses to connect physical controls, motors, PCB assemblies, external connections, and other internal electronic assembly components. Cables need careful consideration for routing, flexibility, environmental ratings, material compliance, ruggedness, aesthetics, signal integrity, and connector compatibility. The cable will also need to be assembled around the other mechanical and electrical components of the device. An experienced cable assembly manufacturer knows what to do to create electrical solutions.
A cable is often the last bit of the product the manufacturer will include in a product concept, but power and data transfer should not be overlooked. Sometimes they fall on electrical engineering, sometimes on mechanical engineering. Often, cables need specialized custom harnesses to meet the requirements for already designed electronics and physical constraints of the custom wire product. Technical Cable Applications provides custom cable and assembly solutions to help make sure the cables we produce will work nicely with your existing product or meet new specifications required by your industry. 
Cable Harness Manufacturers
Wire cable assemblies are problem solvers in electrical industries. In any tricky electronic wire configuration, the cable manufacturer will need electrons to get where they are going consistently, safely, and without interruption. Cable assemblies need to be highly specialized to their environment and built with extreme precision. The manufacturer must pay consideration to the connector manufacturers' best practices, the customer's unique product demands, and processes that are the most assembly friendly. They often must take several component manufacturer's parts and maintain connector and wire compatibility throughout a larger assembly. These considerations must thread the needle for meeting physical requirements to fit within existing products or systems, and still get the correct amount of power or signal where it needs to go. The assemblies are complex and well considered. Having a cable assembly manufacturing specialist on your side is invaluable. There's unlimited value in having a team of experts to rely on when manufacturing cable harnesses and that's why we do everything we can to hire the best staff in the industry, and retain them with excellent benefits. 
At Technical Cable Applications, we build your product the way you need it, and use premier assemblies to harness our wide range leading products. We use our expertise at manufacturing and cable assembly quality practices to help you perfect your product or project. We work with component manufacturer specifications, customer needs, and manufacturing realities to turn your concept into a cost effective, high quality product, and inspect it to your standards. Inspections are accomplished to IPC/WHMA-620 requirements and we use automated work instruction systems created in partnership with Scout Systems to minimize errors in manufacturing, but beyond any industry standard, we inspect the assemblies to our customers' standards above all else. We use extremely precise custom test adapters, fixtures, and measurement devices to make sure we are giving our customers exactly what they are looking for within our assemblies and harnesses. Our goal is to make sure our customers can use their cables for as long as possible for their needs, and only come back to us to order more cables once they've gotten everything possible out of their last order after years of use, or because they need more to keep up with business growth. 
Custom Cable Assembly Manufacturer
To increase our flexibility and improve our service as cable suppliers to manufacture, we have invested heavily in automated tools, large quantities of manual tools, manufacturing assembly efficiency, inspection equipment, and process improvement. We are constantly trying to procure new tools to improve cable harness production or invent new ways to build cables. Technical Cable is a group of experts, building new, custom assemblies every day. We continuously learn to solve tough problems and we would love to help you solve yours with our custom cable solutions and excellent manufacturing. We can meet your needs whether you need simple cables, complex assemblies or intricate harnesses.
If you're looking for a quality cable assembly manufacturer you are in the right place. We take care of our customers, pride in our quality assembly work and customer service. We're proud to be one of the top United State suppliers of custom cable assemblies. If you're looking for an experienced custom cable manufacturer in 2022, we are thrilled to get started and serve you. We are ISO 9001:2015 certified and have greatly increased our manufacturing facility's real estate in order to produce more cables every year. We have also upgraded our equipment consistently every year, including our recent purchase of a Schleuniger 36SP Crimp Center that has doubled our crimping and tinning efficiency while keeping the same precision we've always had since 2002.
We strive to create a simple turnkey process for our customers. Once you've received your custom cable orders you will be ready to go and we are always available for any inquiries you may have during the manufacturing and shipping process. Please contact Technical Cable Applications with your cable drawing and specifications so we can get started on your cable assembly order!