TCA is experienced and equipped to manufacture everything from extremely simple point to point wire harnesses to large and complex cable assemblies which utilize hundreds or even thousands of connection points, and need to maintain functionality in highly stressful and dangerous environments. Our manufacturing company was recently certified by ISO and given the certification of passing the ISO 9001:2015 certification for our quality as a manufacturer, not just meeting but surpassing the requirements of American manufacturing and meeting even the strictest international standards. We also hold to the manufacturing standard of IPC/WHMA-A-620 Standard Revision D. There's no need to worry about whether your cable manufacturing needs will be fulfilled properly by another company with lesser quality standards, just call Technical Cable in Washington for manufacturing in the United States. We can prototype, manufacture and ship your bulk cables as needed across the entire nation with speed and ease.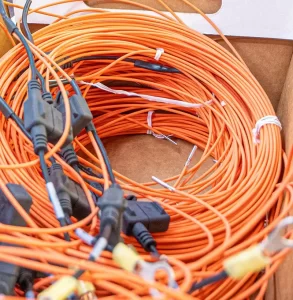 Cable Assemblies VS Wiring Harnesses
For any cable or harness, no matter how complex, everything starts with a single wire. A wire is a strand of material that conducts electricity, like aluminum or copper with a simple rubber enclosure. A cable is by rights, two or more wires that run together. Depending on how complex the structure becomes and the way that it's protected, it will then be called a wiring harness or assembly. Even though a basic wire may seem like something where you could get away with using cheap options, we always use the highest quality wires that we can obtain to ensure that no well-crafted assembly will fail because of a poorly built wire that isn't made with good quality copper, or another internal issue that will sabotage the functionality before power can even make it to other parts of the assembly.
Wiring Harnesses:
The most basic and simplest wire harnesses are wrapped together and then finished with an exterior sheath that covers the wires or cables making up the harness. The covering is usually made of thermoplastic or thermoset material, and these materials help to protect the wires from their environment when they are used in the field. You can open a wire harness and immediately see multiple cables with their own covering, together they make up a single wire harness. This protective covering ensures that the harness will continue functionality in most relatively hot, cold or volatile settings where exposed wire would be too risky to have.
Wiring harnesses are a cost saving solution best for keeping your electrical systems organized and safe, and getting basic protection to keep the wires working in typical settings. Bundling the wire and cables together helps engineers and electrical contractors keep wire harness systems routed in the most logical and least likely to fail method. It is cost effective and often sufficient for many scenarios where the temperature is unlikely to vary and there is little risk of damage from external sources, but not always the way to go with protecting the wires inside from constant friction, temperature and factors that can cause damage. The durability of the straightforward single sheath may not be strong enough to survive extended exposure to outside weather variation, or extreme heat or cold from manufacturing processes that produce these strong temperatures. This is where cable assemblies may be the best choice.
Wire Harness Manufacturer
Cable assemblies:
Cable assemblies are a group of wires or cables that are covered in a more intensively protective exterior material, and may use multiple layers for additional protection. These materials can include shrink-wrapped thermoplastic, thermoplastic rubber, or vinyl. As with the harness used for keeping the wires and cables organized inside, assemblies are used for different and more hazardous environments.
In addition, cable assemblies are built to handle specific environmental factors. They include the size of the area and types of environmental factors that the cable will encounter. They can come in all shapes and sizes, and are built to shield the interior wires and cables from heat, friction, moisture, abrasion, compression, and other hazards. While being more expensive and potentially overkill for more casual settings, an assembly may be exactly what is needed for extremely hazardous manufacturing settings, or high voltage outdoor projects that need to survive no matter the weather and be safe even in the worst weather conditions. If you are unsure of what will be best for your upcoming project's power needs, we can consult with you and help you devise a plan for the cables and harness solutions that will fit best.
Custom Wire Harness Manufacturers
In conclusion, while both a wire harness and a cable assembly contain cables and wires, the big difference in conclusion, while both a wire harness and a cable assembly contain cables and wires and accomplish similar things for powering your projects, the big difference is the manufacturing to match the application and the amount of protection built in. Wiring harnesses are lower in cost, and still provide a bundle of cables and wires some degree of protection – while keeping them organized at the same time. In comparison, cable assemblies provide much more protection by keeping them snug within a rugged outer sheath that can survive nearly any weather conditions. A skilled manufacturer can provide clarity for the electronic solution that is best for your needs.
Working with a quality wire assembly manufacturer is your first step to creating solutions for your custom contract manufacturing project. While there are many qualified cable manufacturers in the United States, we are proud to have passed the ISO 9001:2015 qualifications and proven that we are more than capable of manufacturing excellent cables not just for the nation, but for the international market as well. We are UL certified for cable assembly in the United States and Canada as well. We can manufacture your bulk cable solutions for most industries including the most complex ones. These include areas of expertise such as the industrial, medical, aerospace, military, manufacturing and entertainment industries and many more.
We provide high innovation to be the leading manufacturing company in the Northwest.
We provide high innovation and are proud to be the leading manufacturing company in the Northwest United States, and the rest of the county as well. Whether you need bulk solutions for custom harnesses or full assemblies, TCA is the contract manufacturer in Washington for the job. From component sourcing through prototyping and full production runs, we're always here to service your needs.