Technical Cable Applications Inc. is a contract manufacturer of custom cable assemblies. The assembly types indicated below are just a sampling of the connector interfaces and cable types we are tooled for contract manufacturing:
Battery Cables: As a contract manufacturing company, we modify a wide variety of large gauge battery cables. These can require large hydraulic crimps that cannot be operated by hand, or very large-handled crimp tools. Sizes that range from standard electronics wire sizes up to 000 AWG.
Coaxial Cable Assemblies Connector: types include BNC, F, MCX, MMCX, N, SMA, SMB, TNC, and other proprietary types. We can manufacture assemblies from twin-axial and triaxial cables, with solder or crimp style connectors. Our manufacturing results in the best product on the market.
Flat Cables: We manufacture flat cables with IDC crimps with large arbor presses, twisted pair flat cables, and other specialty parts. We can modify and manufacture some kinds of flat flex cable.
Jumpers: We make thousands of single wires with connectors on one or both ends such as flags, QC terminals, or ring terminals. We use a high degree of automation for these parts for high quality, cost savings, and repeatability. Through the process of manufacturing, we yield products that will serve your company best.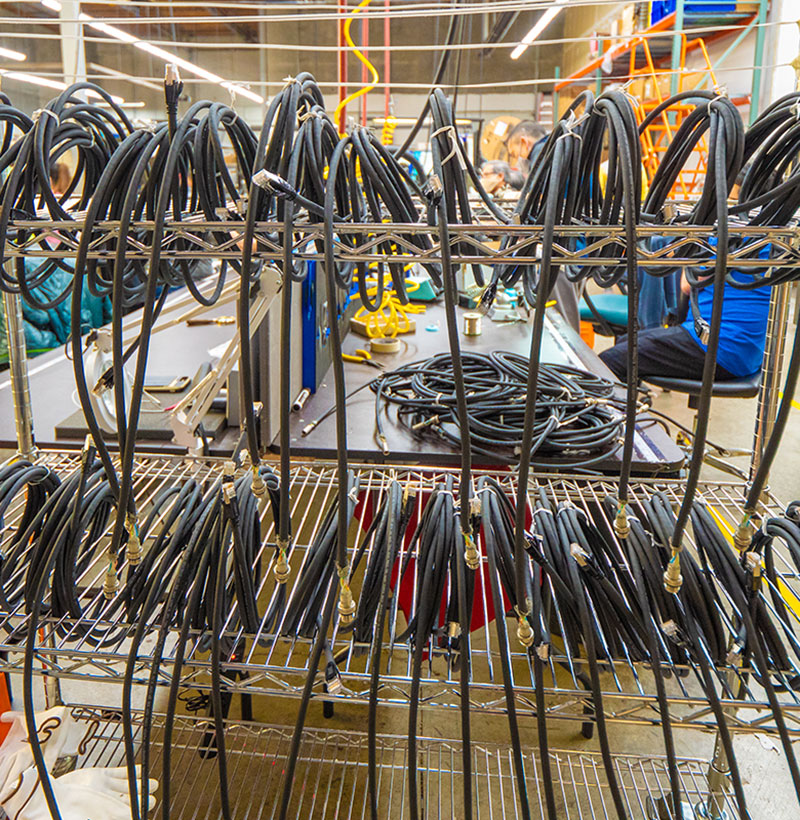 High quality local production
Contract Manufacturing Company
Wire Assemblies: We automate wire cutting and stripping of a wide swath of wire sizes and types. Tinning, labeling, twisting, and other wire assembly services are available. Careful wire assembly manufacturing allows our products to speak for themselves.
Molded Assemblies: We overmold parts locally in our Auburn, WA facility using low pressure injection molding of thermoplastics. Overmolded parts and services include backshells, grommets, and PCB encapsulation. You'll see in our company contract that our process for production results in high quality products. The many companies we work with are pleased with our contract manufacturing and company standards.
Round Cable Assemblies: We assemble and automate the processing of round jacketed cables for extra environmental protection, sealing, improved airflow, and space to contract savings. The manufacturing involved is always maintained by our satisfaction guaranteed contract.
Test Harnesses: We build custom cables for testing, including probe cables, prototypes, specialty one off cables for destructive testing, and instrumentation cables. Without outsourcing, our localized contract production is why our manufacturing is always high quality.
Contract Cable Manufacturing
Wire Harnesses: Contract cable manufacturers create large custom wiring harnesses with many connectors for wiring components past firewalls, engine harnesses, and large equipment harnesses. The manufacturing for these products are built with high quality workmanship by our contract manufacturing team.